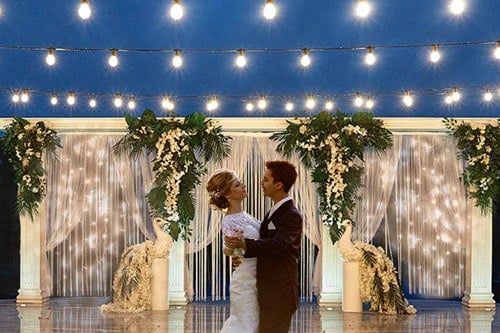 Your Wedding's Light Source
A wedding is a cause for serious celebration, and what better way to celebrate than with the most audacious LED wedding lighting online from JVS Christmas Lighting?
Our selection of LED wedding lights includes a number of items that will be perfect for decorating any indoor or outdoor wedding space, including LED silhouette wedding lights, hanging globe lanterns, floodlights, weatherproof bulbs, string lights, LED wall curtains, spare bulbs, and much more.
We also carry a collection of LED wedding light accessories that includes everything you need to ensure your light show goes off without a hitch. We carry LED dimmers, LED wall curtain extension cords, multifunction chase controllers, emergency outdoor solar lights, and more.
Our Wedding Light Experts Will:

Basic Wedding Packages
• Bistro Lights $750 per set of 50 bulbs
• Hanging Torch Lights (solar) $700 per set of 20
• Trees Wrapped with Twinkle Lights $75 per set
• Trees Wrapped with traditional Lights $60 per set
• Wall Curtains $375 per set
• Wedding Silhouettes
a. 7' Heart Wedding Arch $1,899
b. 48″ tall, 16 gauge metal "L O V E" $2,000
Our Wedding Light Experts Will:
• Work With You To Create Custom Designs & Displays
• Manage Connections & Voltage
• Install & Align Fixtures
• Install & Remove All Lights & Displays
Schedule An Estimate:
Give us a call or submit to our contact form to receive a free, no obligation quote on your wedding lighting installation.
Design Consultation:
JVS Christmas & Event lighting design experts will create a custom plan for your desired wedding venue or area. No job is too big or too small, we can create a design to complement any space!
Installation:
We schedule a date and a time for one of our professionally trained technicians to visit your home or event space and install your preferred lighting design setup.
This light up large scale heart wedding arch is the perfect marquee lighting style wedding decoration for your special day. Used together with large lit marquee letter lights, these are the perfect wedding prop and photo backdrop. Built with RGB turbo bulbs that create a color changing affect
These 48″ tall, 16 gauge metal "L O V E" letters are made with the highest quality craftsmanship and are MADE IN THE USA.
Find Your City Below! Proudly Serving Bergen County, NJ & Rockland, County, NY!