christmas lighting FOR OFFICES
Christmas Light Installation For Offices
A wedding is a cause for Christmas decorations will help to make your office a happier workplace during this festive time of year. Creating a fun and festive atmosphere for your workplace during the Holidays is sure to boost moral and in-turn, increase productivity for your company. Decorating for the holidays pays off with in more ways than one with increased revenues, happy customers and appreciative employees!
Whether you want us to match your corporate colors or bring you the biggest Christmas tree that we have, we can customize your décor to accommodate your theme and budget alike. Give your employees and visitors some Christmas sparkle this year! JVS Christmas Lighting offers an endless array of decorating options for businesses looking to shine during the holidays.
Our talented team of decorators and Christmas light installation pros will pay close attention to EVERY detail to ensure that the final results are exactly what you are looking for.
Our design options are endless! Christmas trees and other decorations that will make your holiday decorating dreams a reality.
The holiday season is a very busy time for most businesses. Allow us to design, install, and maintain your holiday lighting so you can focus on what is important: your family, business, and clients. We are accustomed to working in busy commercial environments with no or minimal disruption.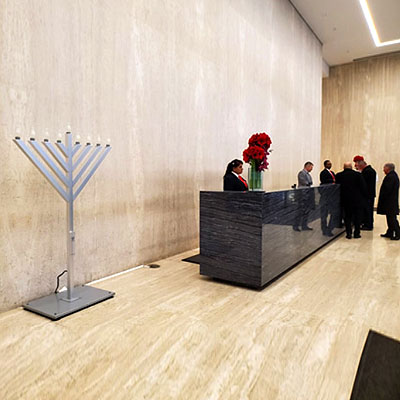 Christmas Light Installation Includes:
Standard Christmas Lighting options (minis, C-9, C-7, etc…)
LED Lighting
Christmas Trees
Greenery such as wreaths, garland, and small trees
Pole Mounted banners and décor
Animated displays
Menorahs
Display Menorahs are essential holiday decor
Make your customers feel represented this holiday season with any of our beautiful Menorahs.
We offer all-inclusive Christmas light installation for offices and can provide you with leasing options that meet your current needs. In addition to the installation and removal of your holiday lights and decorations we offer year round storage in a safe and clean indoor setting. Should you have any service issues, our staff will be attentive and responsive to the problem that you may have and make every effort to remedy the problem in a timely manner. We realize that the holiday season is short and that "time is of the essence" when it comes to replacing burnt out or malfunctioning lights.