Thank you for stopping by and discovering why JVS Christmas Lighting are the experts in the decorating business in Bergen and Rockland County since 2005.
As children we always look forward to celebrating Christmas. The sense of anticipation surround the holiday is an indication of what it offers: rejoicing in the Savior's birth, chances to celebrate tradition with family, the exchange of gifts.
Today more than ever, it is becoming increasingly difficult to find the time and energy to decorate your property and still have time to enjoy the holidays. That's where we come in.
Our decorating profession-elves provide you with:
A beautiful design
All the Lights and Materials
An efficient installation
Support throughout the Christmas Season
Post-season removal
Secured storage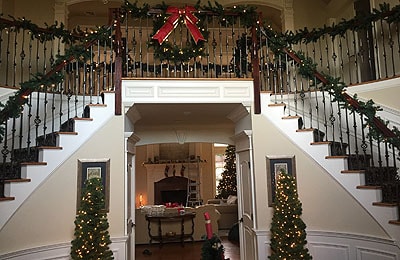 Our focus is doing business with JVS Christmas Lighting a stress free part of your holiday celebration and bring out the child in all of us and you can spend more time with family and friends.
We can have a quote emailed within minutes of your online request. To meet the needs of all of our clients, JVS Christmas Lighting offers three options for pricing. We offer 1-year, 2-year, and 3-year contracts, with varying price ranges.
It's very simple: The longer the contract, the more you save! To make sure you receive the best experience available:
Every Installer goes through a series of training classes to help them become the best they can be.
Our install teams have superior training, unique installation systems we have with our premium products allow us to handle both residential decorations and commercial decorating with ease .
We are fully insured and SAFETY is our top priority for the integrity and esthetics of your home.
Your wishes and ideas are always welcomed into the design process as they are vital to making your Christmas dreams become a reality.
JVS Christmas Lighting will ensure your holiday display exceeds your expectations.
To get started, please SUBMIT A QUOTE REQUEST and then let JVS Christmas Lighting provide you with an exceptional holiday design without the hassle.
We are also available throughout the year for your celebrations.
You can depend on us on us when you need: