Thank you for being (or wanting to be) our customer during the 2021 Christmas season. We hope you and your family had a joyous Christmas celebration. If you missed purchasing one of our items or if you want to ensure that you get a particular display for Christmas 2022, we are offering a 2022 Pre-Order program, starting January 1, 2022.
Please submit data below to start the process for your pre-order item, or call us at
(844) 642-XMAS
to order or with any questions. We will confirm your order details and take your deposit of 33% then only small monthly payments will secure your order.
Outdoor Nutcracker Soldier - Pair - 6 ft H
Since the Christmas story The Nutcracker and the King of Mice was published in the 1800s, the nutcracker has adorned Christmas décor, ornaments and indoor and outdoor scenes with flair. Suitable for indoor use as well, these two-life-size nutcracker soldier will make a fine addition to your residential or commercial Christmas décor.
Was $1,099
CLIENT ONLY SPECIAL OFFER: $849
Snow Family-Outdoor Lawn Decorations
Includes one of each of the Snow Mom, Dad, Boy, Girl, Baby, Kitty, and Pup. Sizes per display vary from 5′ to 3′ on individual items. Complete with lights attached to the frame with clips and ground stakes for mounting. You can also order items individually below to match your family!
Was $1,175
CLIENT ONLY SPECIAL OFFER: $899
Funny Reindeer with Elf 44 ins H
Take a look behind the North Pole curtain with this amusing Christmas Reindeer and Elf figure set. The youthful 44-inch reindeer sits playfully on his haunches ready to get hooked up, while one of Santa's wise old elves prepares to fill the sleigh
Was $999
CLIENT ONLY SPECIAL OFFER: $699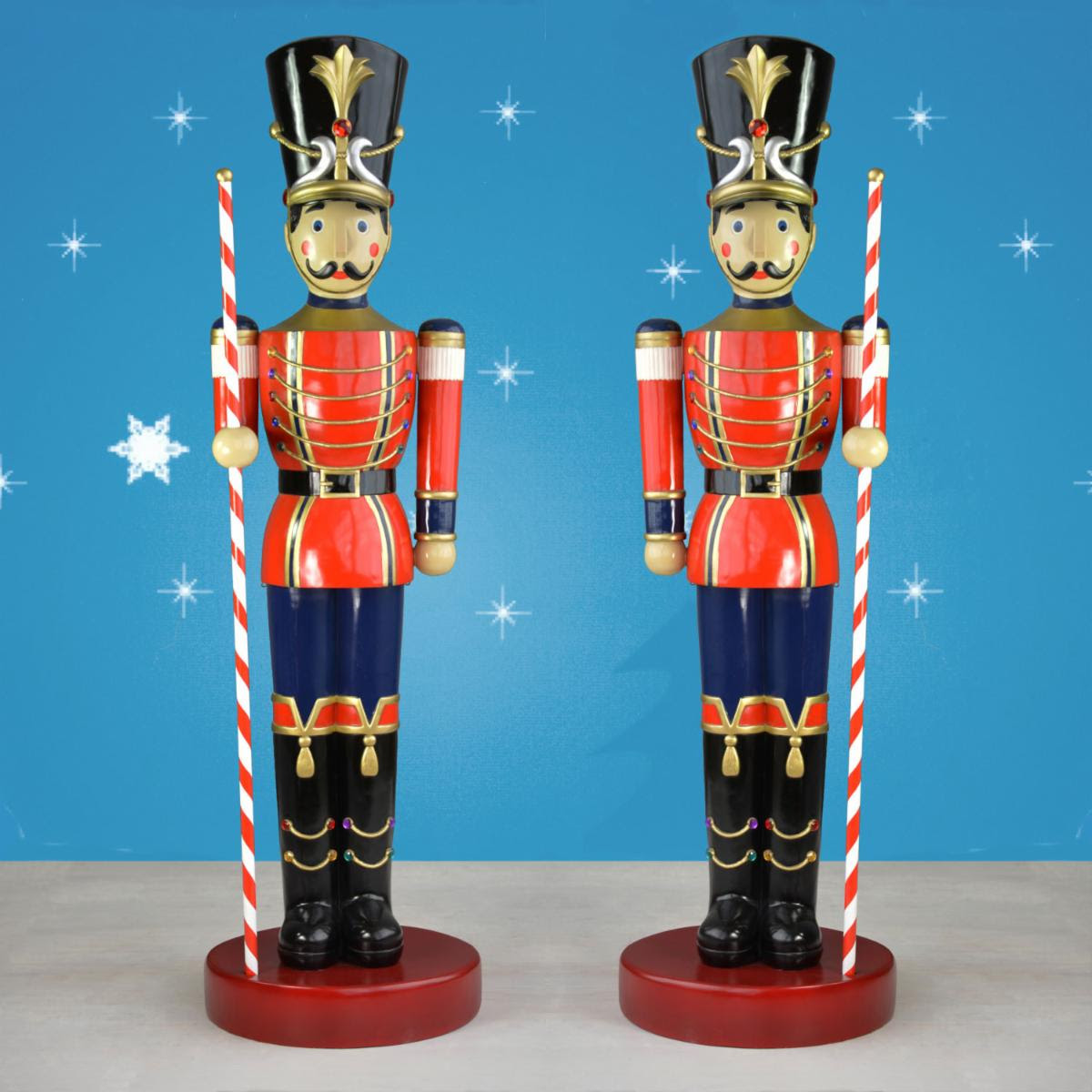 Life Size Toy Soldiers with Batons 6.5 ft H
Forward, march! This colorful pair of 6.5-foot toy soldiers are the ideal duo for welcoming people to your home or business. They are made of durable fiberglass that is fade-resistant, withstanding brutal cold, snow and heat. Each soldier wields a candy cane striped baton as they stand at attention. Set them at the foot of the driveway, at the entrance or by an archway as the main decoration. Everyone who enters will feel the cheer this life-size toy solider pair brings
Was $1,299
CLIENT ONLY SPECIAL OFFER: $899